Dr. Kevin Gwinner, Edgerley Family Dean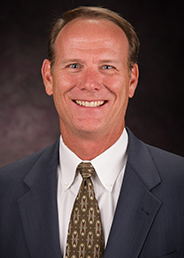 Kevin Gwinner was appointed Edgerley Family Dean of the College of Business Administration in April of 2016 after a national search. He had served as interim dean of the college since June of 2015. He is a professor in the college's department of marketing where he served as head for ten years prior to his appointment as interim dean. He received a doctorate in marketing from Arizona State University and holds a master's in business administration from ASU as well as a bachelor's in finance.
Gwinner arrived at K-State in 1999 after working in the corporate arena for Mays Department Stores. Since coming to K-State, he has taught multiple marketing courses in both the undergraduate and graduate programs. He was appointed head of the Department of Marketing in 2005.
Among his many awards, Dean Gwinner received the Career Contributions Award from the American Marketing Association Sports and Sponsorship Marketing SIG (2016), the Hormel Meritorious Teaching Award (2005) from the Marketing Management Association and the Commerce Bank Award for Distinguished Undergraduate Teaching at Kansas State University (2004). He also won the 2003 and 2006 Outstanding Research Paper Award for the best article published in the Journal of Service Research.
Dean Gwinner is past-chair of the American Marketing Association's Services Marketing Special Interest Group and has served on the editorial review boards of several prestigious journals. An Eagle Scout, Dean Gwinner is a past president of the Coronado Area Council of the Boy Scouts of America and serves on the Board of Directors for The Trust Company. He and his wife, Sherri, reside in Manhattan, KS, with their three children.