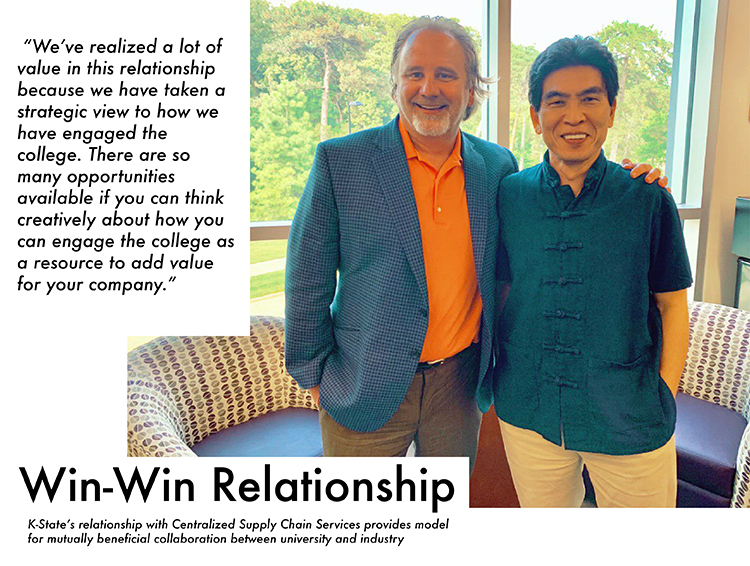 Up until a few years ago, Centralized Supply Chain Services (CSCS) was coming to K-State for the same reason that most companies venture onto a university campus - they wanted to hire students.
But when CEO Mike Leikam, a 1987 graduate of the College of Business, read an article about K-State 2025 and the university's Global Food Systems Initiative, he began to wonder if there were more opportunities for his company to engage with his alma mater.
"I thought those initiatives aligned closely with some of the things we were working on surrounding supplier risk management, supply chain analytics and food system sustainability," Leikam said. "So I reached out to Dr. Chwen Sheu in the College of Business to see if there would be any mutually beneficial projects we could work on in those areas."
That initial discussion turned into an MBA capstone project around food sustainability, the first of a number of collaborations with K-State that have benefited both CSCS and the faculty and students in the College of Business.
"We began to fundamentally think differently about how we have leveraged the university," Leikam said. "Now instead of just hiring graduates, we think about how K-State can be a resource to help us achieve our vision and mission."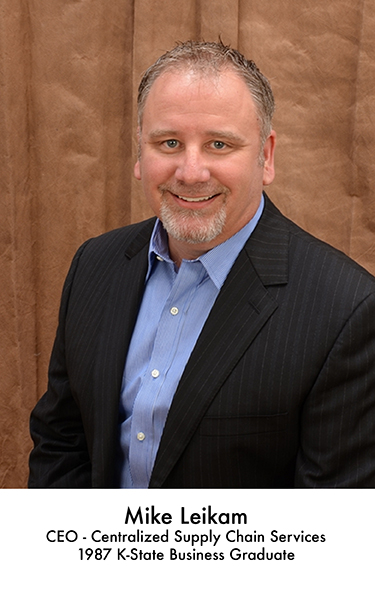 Based in Kansas City, CSCS is the supply chain management cooperative for the Applebee's and IHOP restaurant systems. CSCS manages $2 billion in spend and 50 million cases annually through its supply chain supporting 3,400 restaurants in all 50 states in the US. It leverages an international supply base to support its supply chain activities.
"One of our core values that guides the way we run our company is 'continuous improvement', always trying to figure out ways to drive even greater value to the restaurants we serve across the country," Leikam said. "Effective supply chain management - buying products more efficiently and at better delivered prices than our competitors and getting new products to market faster - is a competitive advantage for the brands that we support. We've been able to engage with K-State in a variety of ways that have added value to those efforts."
Over the past five years, students in the College of Business have drawn a lot of value from the relationship as well. Leikam and CSCS CFO Dustin Pitman have given a number of guest lectures to both undergraduate and graduate level classes and the K-State Supply Chain Management Club. The company has hosted both undergraduate and graduate student internships, and hired multiple K-State graduates to full-time positions.
CSCS has also offered K-State graduate students a variety of complex MBA capstone projects. The latest project involved analyzing how Applebee's and IHOP's promotions were being referenced on social media in order to help CSCS make better supply chain decisions in anticipation of how these promotions were going to perform.
"Having real-world examples to base capstone projects around gives students the opportunity to think critically and take on business issues they will be faced with in their careers," said Sheu, who is associate dean for academic programs in the College of Business. "Each capstone project also has a faculty advisor, which fosters interactions between faculty and industry."
Those increased interactions have led to faculty research projects revolving around supplier risk management and supply chain data analytics. Faculty members have also developed and administered training programs that have been implemented within the company.




"One of the major barriers to meaningful university-industry collaboration is a lack of mutual trust," Sheu said. "It is not always easy for companies to trust our faculty and students with their data and problems. The mutual trust in this relationship has been slowly built up through interactions over the years, and has been key to building and maintaining a sustained collaboration."
The trust built between K-State and CSCS has even grown beyond the walls of the Business Building. When it came time for the company to conduct chemical analysis in support of a $35 million RFP for restaurant sanitation chemicals, CSCS worked with K-State's Food Science Institute to provide the testing. The arrangement allowed for funding to the college and real-world experience for students in the lab, while also providing cost-savings for CSCS by forgoing a third-party lab. The company has also initiated discussions with the College of Veterinary Medicine regarding a variety of animal welfare topics.
"We've realized a lot of value in this relationship because we have taken a strategic view to how we have engaged the college," Leikam said. "We've built a relationship to take advantage of the thought leadership at K-State that we wouldn't have otherwise had access to in a very efficient way. There are so many opportunities available if you can think creatively about how you can engage the college as a resource to add value for your company."
With the success of the collaboration for all parties involved, the college will continue to look for ways to partner with other companies for mutual benefit.
"Collaborations like this are a perfect example of the types of things we can do as a college to engage the business community in great partnerships," said Kevin Gwinner, Edgerley family dean of the College of Business Administration. "This is truly a win-win experience for both parties, and a model that could be emulated by a variety of companies."


As a College of Business alumni, we hope you will also find ways to personally, or through your company, become involved in helping the College achieve its vision "To be a transformational leader in business thought and education through knowledge creation, innovative programs, and extraordinary experiences."

If you have an area of passion or expertise that you believe might fit with the research or classroom activities of the college, contact CBACorpEngagement@ksu.edu to connect with a faculty member or administrator in your area of interest.


Can too much success be dangerous to the long-term prospects of your company? The downfall of Kodak provides a lesson in the dangers of organizational hubris, and great insight for anyone serving in a leadership or board role at a successful company.





48 companies were recognized for the impact they have made on the College of Business through direct financial support for programs, research and scholarships.



The College of Business is excited to present a new podcast interview series that asks successful K-State Business alumni about the twists and turns in their career paths, and what they've learned along the way.