We Have a New Degree!
Learn more about the new Operations and Supply Chain Management degree here.
Global Supply Chain Club
Global Supply Chain Club is a student group affiliated with both the Project Management Institute (PMI) and the Council of Supply Chain Management Professionals (CSCMP). The club is composed of management majors and others with an interest in operations management, project management, and supply chain management. The mission of the club is to provide students with an opportunity to get beyond pure classroom learning and to interact with practicing managers.
Students are in complete control of all club activities. Activities include: bringing in guest speakers, touring local and regional businesses to learn about their operations, and attending the meetings of professional organizations such as CSCMP and PMI. Through these activities, students not only learn more about operations management and related topics, they also get to interact with the larger business community in ways that may further their careers.
Club Leadership
For the 2022-2023 academic year, our club leadership includes:
Faculty advisors are:
Fall 2022 Meeting Times
Monday, August 29th @ 6:00PM in BB1092 - Introductory Meeting
Monday, September 12th @ 6:00PM in BB1092 - Target
Monday, September 19th @ 6:00PM in BB4061 - Pre-Career Fair
Monday, September 26th @ 6:00PM in BB1092 - Old Dominion Freight Line
Monday, October 10th @ 6:00PM in BB1092 - White Belt Training - Lean Six Sigma
Monday, October 24th @ 6:00PM in BB1092- AIT Worldwide Logistics
Monday, November 7th @ 6:00PM in BB1092 - Arrive Logistics
Monday, November 21st @ 6:00PM in BB1092 - TBD
Monday, December 5th @ 6:00PM in BB1092 - TBD
2023 OSCM Study Abroad
In May/June of 2023, OSCM faculty member Dan Minick will lead a group of students to Germany and the Netherlands.
Click here for more info. (TBD)
2022 General Motors Case Competition
K-State Team includes:
2021 General Motors Case Competition
The K-State Team made it to the finals again!
Congrats to Julianna Alaman, Samuel Cox, Will Chamberlain, and Brian Blood!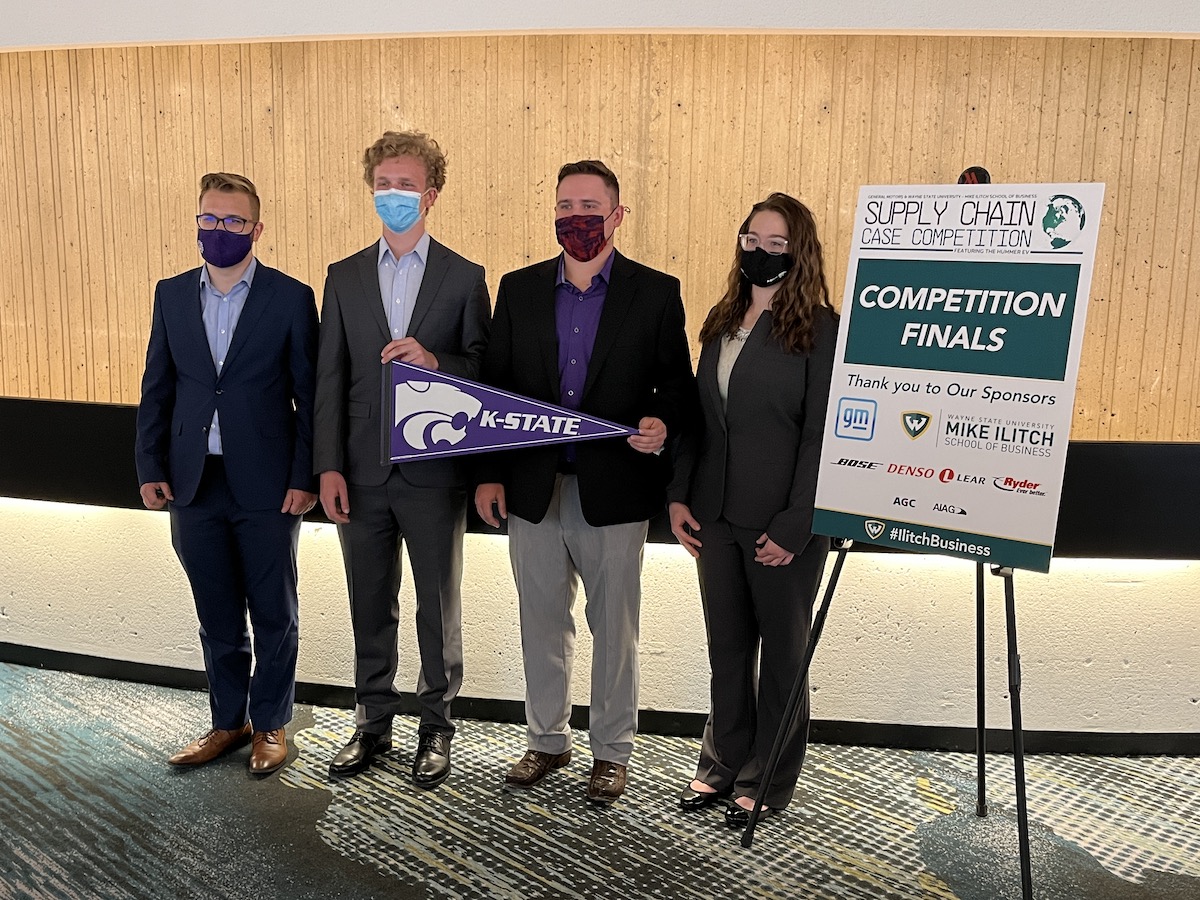 2018 General Motors Case Competition
Recordings of Past Meetings