Alpha Kappa Psi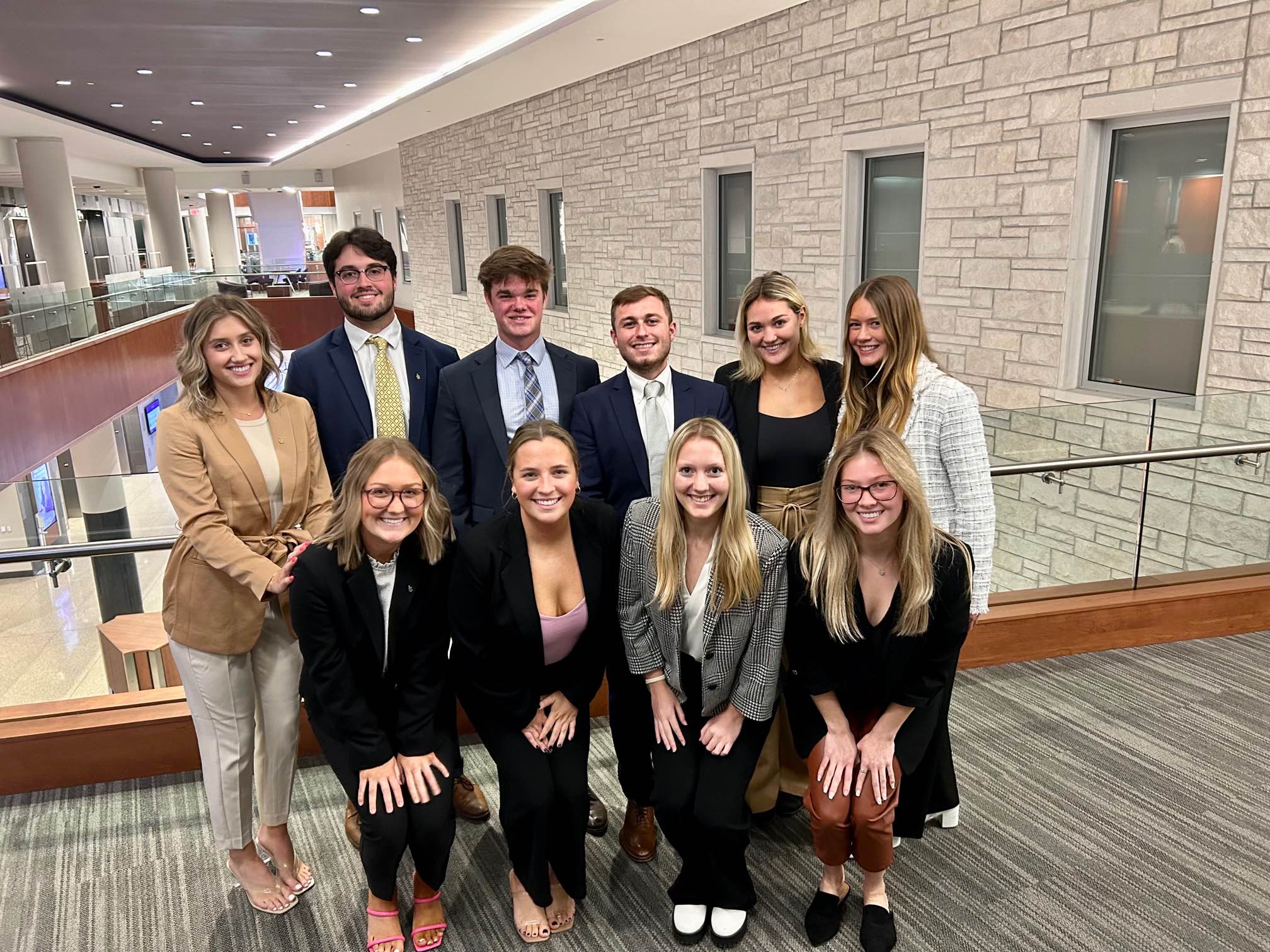 Alpha Kappa Psi (AKPsi) is a Professional Co-ed Business Fraternity founded in 1904 with the purpose of developing its members into principled business leaders. Alumni include politicians, former presidents, and business leaders. Currently, the organization has over 240,000 initiated members and 265 active chapters at universities in the United States, Canada, the United Kingdom, and Hong Kong. The mission of AKPsi's Alpha Omega Chapter at Kansas State University is to drive personal growth of members through skill acquisition and development, and ultimately transform business students of today into the business leaders of tomorrow.
Professional development and networking activities of the Alpha Omega Chapter are focused on providing members with opportunities to acquire, enrich, and leverage both personal and interpersonal skills. The chapter strives to provide the best environment for enhancing the professional experience of business students through newly implemented Business Plan perspective. This approach allows student members to take knowledge obtained in college and apply it to real life business cases, helping them gradually transition into their professional careers.
For more information, please see the frequently asked questions section below or contact our organization.
Frequently Asked Questions
How long has Alpha Kappa Psi been at K-State?
The Alpha Omega Chapter of Alpha Kappa Psi was chartered in 1927 and is the oldest organization in the College of Business Administration.
What are the Core Values of Alpha Kappa Psi?
Brotherhood – Trust, respect, cooperation, companionship, and aid to members is the expected norm Knowledge – Education and experience, whether gained in the classroom or the workplace, is emphasized and shared Integrity – All actions, whether in business or in life, are guided by honesty, ethics, and fairness Service – Sharing of time, talent, and treasure with both communities and with our Fraternity is a priority Unity – A common understanding of our vision and values that transcends chapter, generation, and profession is utilized to anticipate and create the future
What Activities does Alpha Kappa Psi have?
Alpha Kappa Psi members participate in chapter meetings, professional development events, service and social activities, field trips, and national fraternity events, among others.
Alpha Kappa Psi organizes and coordinates professional development events such as resume building, and guest speaker events.
Past service activities have included but are not limited to the Anthony Bates Heart screenings, blood drives, parking lot clean ups, Relay for Life, Up 'Til Dawn, Habitat for Humanity, and many more.
Past social activities have included bowling nights, ice cream socials, pizza parties, movie nights, holiday potlucks/gift exchanges, football tailgates, out-of-town K-State sporting events, and alumni social mixers, among others.
As a way to stay connected with the business world, members of Alpha Kappa Psi have the opportunity to attend field trips each semester. Past field trips include Chicago, IL, Des Moines, IA, Wichita, KS, Kansas City, MO & KS, Las Vegas, NV, and Washington, D.C. On these trips members have the opportunity to visit businesses such as John Deer, Cargill, Koch Ind., and Perspective Software, among others.
Members also attend national fraternity programs and events such as the Principled Business Leadership Institute, the Convention, and the College of Leadership. These events allow members to stay connected internationally and partake in professional development opportunities.
Requirements for Membership
To become a member of Alpha Kappa Psi, students must first apply for and be admitted into a six-week pledge process during which information about the organization is learned. There is a fee for the pledge process that covers the cost of materials. Once a student becomes a member, dues are charged each semester.
Following the pledge process, new members are inducted into the fraternity and can begin to attend chapter meetings. Members must attend all required meetings and fulfill community service and fundraising requirements.
Those interested in joining Alpha Kappa Psi should contact the chapter advisor, faculty advisors or president, whose names and contact information are shown below.
Apply for Membership
Click here for our membership application.
Meeting Times
AKPsi meetings are for members only. Please contact the chapter president Wyatt Lindsey to learn more about the organization or how to become a member.
Alpha Kappa Psi Motto
Shaping People, Shaping Business.
Alpha Kappa Psi Creed
Alpha Kappa Psi recognizes that
We live in deeds, not years;
In thought, not breath;
In service, not in figures on the dial.
We count time by heart throbs,
When they beat for God, for man, for duty.
He lives most who thinks most,
Is noblest, acts the best.