Dean's Message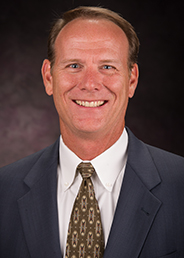 Welcome to the Kansas State University College of Business Administration (CBA). I am honored and excited to be leading the college during this time of transition. I have been a member of the CBA Department of Marketing faculty since 1999, became the head of the marketing department in July of 2007 and, now, have the privilege of serving as interim dean.
I believe that Every Student Can Succeed in the CBA, therefore, the college will strive to give every student a well-rounded business education that includes outstanding academics, excellent professional development skills, and positive leadership experiences.
First and foremost, the CBA has an exceptional faculty and staff who are committed to the success of our students. Among the components making up the academic experiences of students, the most important is the individualized care and concern these faculty and staff members have for students. These professionals are the heart and soul of the college and an inspiration to our students.
An exciting change is on the horizon for the college. In the fall of 2016, the college will move into the new business education building, a state-of-the-art learning environment equipped with innovative spaces and cutting-edge technologies. This facility will be home to the many programs and activities that allow students to explore their interests and develop skills that will help them understand what it is to be a "business professional."
The college offers six majors and two minors to its 2,774 students. These programs of study include access to Executive Mentors, teamwork, academic competitions, philanthropic endeavors and a Professional Advantage experience that adds value to each student's degree, and an edge in marketability. Along with five graduate programs designed to accelerate student careers even farther, K-State business offers a myriad of opportunities for the success of every student.
I encourage you to explore this website and learn more about the CBA, its programs, and the academic and professional development advantages the college provides business students. I am confident you will be impressed by K-State's growing, productive, and innovative business school. I believe you will learn that the K-State College of Business Administration is a great place to learn and grow with programs purposefully designed to ensure that every student can succeed and compete among the best business school graduates in the nation.
Best regards,
Kevin Gwinner, Ph.D.
Edgerley Family Dean